Fully Electric Stacker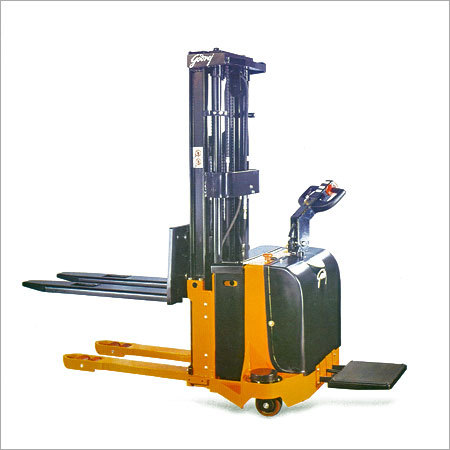 Fully Electric Stacker
As an eminent enterprise, we trade and supply an exclusive range of Electric Stacker that is procured from the highly reputed vendor, Godrej. Manufactured at our vendor's end, utilizing premium quality raw materials as per the latest market trends, the offered Electric Stacker assures optimum performance. It is available in different capacities to fulfill the wide needs of the clients. The entire range of Electric Stacker is highly appreciated for easy handling, low running cost, compact design and longer service life.
Performance
Robust & Reliable performance through an Integrated Gear Box and Traction Motor: Enclosed oil lubricated gear box is integrated with traction motor. Drive Wheel is mounted on a drive unit and has spring suspension to ensure positive contact with the ground at all times.
Simplified control through programmable MOSFET Controller and Seperately excited Motor : Microprocessor based MOSFET controller enables smooth and step-less throttle control providing jerk-free operations, better control and safety. Other benefits of SepEx controller are:

No forward / reverse contactors require, so lesser maintenance.
Smooth control at all speeds gives better control when traveling with load and ensures jerk-free operations.
Regenerative braking optimizes the use of battery energy by returning energy to the battery while braking.
Can be programmed to adjust to varied applications and requirements at all times.

User friendly Controls for high operator efficiency:

"Full function control handle", with all controls (forward / reverse and lift / lower) is located on the steering handle.
Forward / reverse motion is controlled by thumb operated butterfly switch.
Lift / Lower buttons are conveniently placed on the steer handle. Electrically actuated by solenoid switch (as against mechanical control in other indigenous local stackers) - a feature unique to Godrej Electric Stacker!
Safety features like "horn" and "anti pinning button" are also located on the handle.
Different design for handle depending on the presence of platform.

Tandem Load Rollers: Tandem Load Rollers are provided to ensure that the stacker has constant contact on the ground even while encountering small obstructions during movement. This also provides uniform distribution of load on the rollers, thus increasing their life.
Smooth lifting/lowering through a powerful Hydraulic System: A powerful pump motor powers the hydraulics. Lifting and lowering functions are controlled by electric solenoid valve - a feature unique to Godrej Electric Stackers!
Superior Mast Design for reduced deflections at maximum lift height: Interlocking I-beams are reinforced with heavy wrap around tie bars. Unique load lowering control valve, fitted at the base of cylinder regulates lowering speed in inverse proportion to load weight. It also acts as a safety device in case of hose failure.
Safety
Brakes: Electro magnetic brakes are actuated when the steer arm is in vertical or horizontal position. Brakes remain actuated till the steer arm is in "braking zone". Steer arm in vertical position acts as a parking brake. This prevents accidental runaway of stacker while parked at level or slope.
Anti-Pinning Button: This is a button on the steer handle for operator safety, conveniently placed so that it gets activated if operator gets prinned between a rack / wall and the stacker while operating it. When actuated, the stacker gets automatically pushed in the opposite direction by a small distance and stops, thus avoiding any injury to the operator.
Emergency Switch: A push type Emergency Switch is provided for quickly disconnecting battery power to the equipment without having to turn the key switch off. The stacker the functions only after the Emergency Switch is released.
Battery Discharge Indicator (BDI) with Lift Lock Out: When the battery is discharged to 80% of its full capacity, lift functions are disabled and only travel functions are permitted. This ensures that no lifting operations are performed when the battery is close to being fully discharged, thus protecting the battery from permanent damage. This also serves as a warning to the operator for putting the battery on charge.
Standard EquipmentThe standard stacker consists of the following:
Five point wheel configuration
Centre mounted Full Function Control Handle
Integrated Gear Box and Traction motor
Programmable MOSFET Controller with Separately Excited Motor
Hydraulic System for lifting/lowering functions
Polyurethane Drive Tyre and castors
Polyurethane Tandem Load Rollers
Electromagnetic Brakes
Anti Pinning Button
Emergency Switch
Battery Discharge Indicator with Lift Lock Out
2/3 stage mast configuration with application specific lift heights
Horn
Key Switch with a set of 2 keys
One Battery (24V / 209 AH)
Technical Specifications
Description




Unit

ES 15

ES 15 W

Load capacity




kg

1500

1500

Load Centre




mm

600

600

Fork Length




mm

1150

1150

Width across forks (outer-to-outer)




mm

590

750

Travel Speed

Laden

km/h

5.5

5.5

Unladen

Km/h

6.5

6.5

Lift Speed

Laden

M/s

0.11

0.11

Unladen

M/s

0.15

0.15

Lowering Speed

Laden

M/s

0.13

0.13

Unladen

M/s

0.10

0.10

Gradient

Laden

%

7

7

Unladen

%

15

15

Overall Length

With platform

mm

2475

2475

Without platform

mm

2026

2026

Overall Width

Front/rear

mm

848/764

848/924

Tyres (diameter x width)

Drive Wheel

mm

230 x 83 (PU)

230 x 83 (PU)

Load Wheel

mm

85 x 75 (PU)

85 x 75 (PU)

Castor Wheel

mm

135 x 60 (PU)

135 x 60 (PU)

Under clearance (Min/Max)




mm

30/40

30/40

Turning Radius

With platform

mm

2021

2021

Without platform

mm

1597

1597

Right Angle Stacking Width (with / without platform)

800(W) x 1200(L)

mm

2878 / 2455

Not Available

1000(W) x 1200(L)




2937 / 2512

1200(W) x 1200(L)




3010 x 2585

Motor Details

Traction

KW / V

1.5 / 24

1.5 / 24

Pump

KW / V

3 / 24

3 / 24

Battery




V / AH

24 / 209

24 / 209
"We are mainly dealing in Western Uttar Pradesh & NCR."