Electric Tow Truck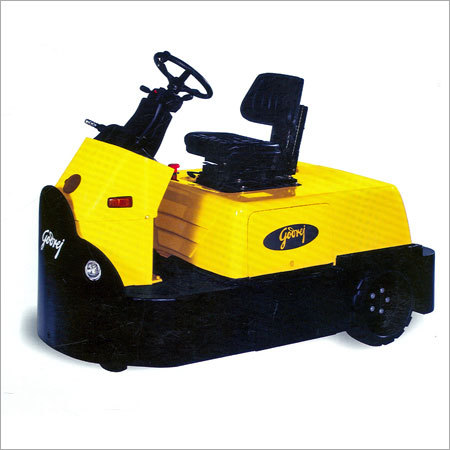 Electric Tow Truck
We feel proud to introduce ourselves as the leading trader and supplier of Electric Tow Truck, which is sourced from our reliable vendor, Godrej. This product is known for compact design, sturdy construction, high tensile strength, smooth operation and ability to withstand harsh conditions. To manufacture this Electric Tow Truck, our vendor uses world class components with the help of cutting edge technology under the guidance of experienced professionals. This truck can be availed by our clients as per their application requirements within the promised time frame.
Standard Equipment
Rear mounted drive unit.
Electronic (MOSFET) Traction speed control.
Stepless variable traction speed in forward and reverse direction.
Regenerative Braking
Emergency power disconnect switch.
Battery connector Anderson SBE 350
BDI/Hour meter with travel interrupt.
Batteries 48V.
Drive tyre solid rubber 410 x 150mm.
Steer tyre solid rubber 250 x 100mm.
Optional Equipment
:
Over head Guard
Front Guard
Rear View Mirror
Power Supply:
48V Lead Acid batter, having 24 cells at 5 hr. rate of discharge, coupled with 350A plug and receptacle. Battery performance confirms to IS 5154-1980.
Drive Motor:
48V, Strip wound, Separately Excited DC Motor rated at 4.5Kw. Drive motor performance confirms to BS 1727-1971.
Drive Unit and Differential:
Unique design of drive axle offers exceptional traction and braking performance
Electronic Traction Control System:
This system offers smooth, silent and effective Microprocessor based MOSFET controller enables to set the personalized traction parameters according to the user's requirement.
This transistor controller provides benefits such as maximum energy efficiency, reduced maintenance and infinite speed control capability.
Can be programmed to adjust to varied applications and requirements of all types.
Efficient trouble shooting can be done through at fault flash code signaled by an LED.
Two user-selectable vehicle operating modes are available (High Speed and Low Speed).
Steering System:
Dual steering wheels driven by gear mechanism & with precision bearings for smooth steering operation.
Frame:
Chassis is designed with round corners, heavy front plate to minimize damage in case of truck collision. the frame is designed for maximum strength & low deflection.
Brakes:
Two independent braking systems.
Regenerative braking on accelerator release or on reverse travel direction selection optimizes the use of battery energy by returning energy to the battery while braking.
The hydraulic pedal brake acts on drive axle pinion shaft
Batteries:
Lead acid traction battery of adequate capacity is fitted on the Truck.
The battery can be easily removed by sliding over rollers placed below the battery.
Battery can be easily accessed for checking cell gravity or for topping up the electrolyte.
"We are mainly dealing in Western Uttar Pradesh & NCR."