Electric Forklifts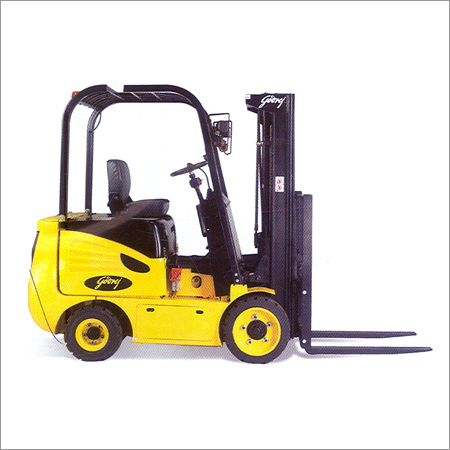 Electric Forklifts
Electric ForkliftsPOWER SUPPLY
DC drive: 48V, 553 Ah lead acid traction battery with 24 cells rated at 5 hour continuous rate of discharge
AC drive: 72V, 332 Ah lead acid traction battery with 24 cells and 5 hour rate of discharge
The battery is coupled with suitable 350A plug and receptacle. Battery performance conforms to IS:5154-1980. Larger batteries for longer operating cycles are available as an option. Battery discharge indicator with lift lock-out to safeguard the battery and critical electronic components is standard.
CHOICE OF DRIVE TECHNOLOGY
DC SepEx drive: 48V, strip wound, Separately Excited (SepEx) DC traction motor rated at 11 kW. DC traction motors have long been favourites on forklift trucks and even today the latest SepEx type of DC traction motors provide great value for money. The SepEx DC motor is the most contemporary in DC traction technology where the field motor coil and armature receive power independently. This greatly improves motor performance providing increased acceleration and top speeds while reducing brush wear.
AC drive: 72V AC traction motor rated at 12 kW. AC traction motors provide the benefits of extremely smooth control on truck travel, a high level of energy conservation and virtually maintenance free operation.
ADVANCED ELECTRONIC CONTROL
Programmable MOSFET controllers for DC and AC traction represent the new generation in drive control technology and are designed to provide smooth, efficient and cost effective speed control. Motor speed is controlled by varying the switching frequency of MOSFETs. The ability to switch 20,000 times per second gives MOSFETs their unique ability to provide infinitely variable speed control. The input is given by the throttle potentiometer on the accelerator pedal. Various safeties including armature current limit, potentiometer fault detection, thermal protection and low voltage protection are provided.
DRIVE UNIT AND DIFFERENTIAL
An integral assembly of drive motor, differential and full floating offset drive axle forms the drive train. This incorporates a 3.5: 1 final reduction ratio through enclosed internal ring and pinion drive gears in the wheel hubs.
STEERING SYSTEM
Hydrostatic power steering actuated by the accelerator pedal meters and directs oil volume proportional to the amount of turn, to the appropriate side of the steering cylinder. The steering axle is centrally mounted on resilient silent block bushings. These along with spherical bushes in steering knuckle links provides articulation to the rugged steering axle. Articulation ensures positive wheel contact at all times, even on rough floors. External forces on the wheels do not produce a reaction at the steering hand wheel. The adjustable steering column option allows the steering column to be tilted to suit each driver's comfort.
HYDRAULIC SYSTEM
48V, strip wound, heavy duty compound DC motor with class "F" insulation rated at 6.7 kW coupled to a gear pump forms the heart ofthe hydraulic system. Suitable for heavy duty applications. Strip winding and commutator segments brazed for trouble-free and life-long operation.
The hydraulic pump with a positive suction head supplies pressurized oil to the main hydraulic valve which controls lifting and tilting functions besides attachments if any. An electric switch actuated by movement of the valve spools, starts the hydraulic pump which instantly supplies oil to the valve. Control levers with easy-to-understand symbols as per IS:7553-1975 are dashboard mounted within comfortable reach of the operator's right hand. A high capacity, full flow suction line filter located within the sump tank increases life of critical hydraulic parts.
High Performance Pack: Ideal for working in tight racking spaces or handling delicate goods. The hydraulic pump and motor are governed by an independent MOSFET programmable controller supplies pressurized oil to the lift / tilt cylinders as well as to the steering cylinder. The controller regulates motor rpm depending on the operations performed by the operator. Besides conserving battery energy, this system offers an ultra-smooth control of lift, tilt, attachment and steering operations.
FRAME
Precision aligned, monocoque construction with integral hydraulic tank. Driver's overhead guard, a safety feature on all Godrej Forklift Trucks is mounted on the frame. It protects the driver from overhead falling objects and conforms to IS:7621-1974.
CLEAR VIEW MAST
Greatly enhanced forward visibility of the Godrej Clear View Mast reduces strain on the operator and improves safety, productivity and speed of operation. Reinforced mast sections with wrap-around tie bars and canted roller design transfer the forces of load handling to the strongest point of the mast section. The design also resists deflection due to off-centre loading. Full floating lift cylinder and tilt cylinder mounts minimize side loading on cylinder rods and seals. Twin lift cylinders are fitted with a load lowering control valve, which regulates lowering speed in inverse proportion to the load on the forks. The carriage is built to Class 2 specification. Hook mounted forks are forged, heattreated and tested according IS:6876-1972.
ELECTRICAL AND MECHANICAL BRAKING
Self adjusting expanding shoe type hydraulic brakes operate on drive axle pinion shafts where braking force is multiplied 4.4 times. Enclosing brakes within the drive axle housing protects them against contamination from dirt and dust. Hand operated parking brake.
One of the key benefits of Godrej Electric Forklifts is regenerative braking. Activated as soon as the accelerator pedal is released, the traction motor behaves like a generator and the forklift's kinetic energy, which would otherwise be wasted as heat in mechanical braking, is converted into useful electrical energy which is stored in the battery. This means the operator uses the mechanical braking system sparingly and prolongs the life of brake shoes and other brake parts, while the stored electrical energy prolongs the battery's operating time before re-charging.
INSTRUMENTS
A combined gauge displaying the battery charge level and hour meter is mounted on the dashboard.
Godrej offers the most contemporary DC and AC traction technology. Both types of traction motors are managed by microprocessor based MOSFET programmable controllers with powerful benefits for best-in-class performance, reliability and value.
THIS PROVIDES
Smoother vehicle control
Twin mode operation: Tortoise' for slower, careful maneuvering in constrained spaces and 'Hare' for high speed long distance travel
Regenerative braking, which feeds braking energy back to the traction battery and also enhances the life of brake shoe liners
Quick and easy trouble shooting with built-in diagnostics in the controller
Programmable operating parameters to suit different operating requirements . Reduced electrical maintenance due to fewer components and minimal hard wiring
OPTIONS AVAILABLE
Pneumatic tyres for rough flooring and driver comfort
Faster lifting / lowering speeds of 0.166 m/s and 0.45 m/s respectively
High Performance Pack for ultra-smooth control over lift, tilt, steering and attachment operations
4 - Wheel Electric Forklifts GX Series

1.5 to 4 tonne capacity at 500 mm load center; lift heights up to 7.2 m
masts: 2 stage /2 stage with full free lift/ 3 stage with full free lift
Powerful DC drive with SpecEx electronic control
Also offered with brushless, maintenance free, energy saving AC motor
Container stuffing / de - stuffing configurations
High performance package with electronic control of hydraulic operations enhances energy saving, battery life and handling performance

"We are mainly dealing in Western Uttar Pradesh & NCR."