Diesel Foklifts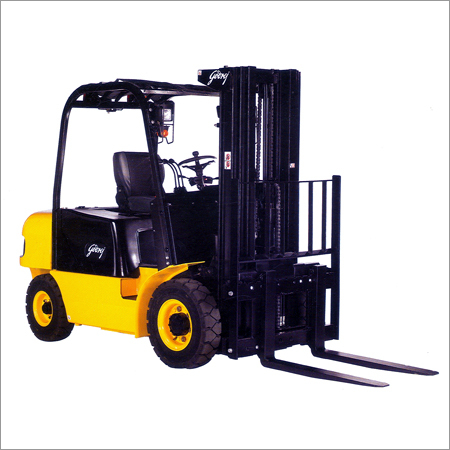 Diesel Foklifts
Diesel Foklifts
Power House - Drive Train
The drive train is the heart of every forklift truck, comprising of engine, transmission and drive axle. It provides acceleration, speed and gradeability ensuring higher productivity and faster operating cycle times.

Engine: 4 stroke, 4 cylinder water cooled diesel engine with heavy duty dry type air cleaner, dual fuel filter, lubrication oil filter and protecto fuel filter cap. We are the only manufacturer to offer several engine options on our forklifts Trucks.
Transmission: Automatic transmission are best suited for variable speed - variable load applications. Torque multiplication at lower speeds results in faster acceleration giving excellent gradeability. Direction reversal is possible with the flick of a leer. This eliminates manual clutching and de - clutching resulting in reduced operator fatigue and allows the operator to focus completely on the load. We are the only Indian manufacturer of Forklifts to produce the Automatic Transmission in House.
Drive Axle: The drive axle is designed with 4.4:1 final gear reduction through fully enclosed ring gear and pinion. Axle end gear reduction within the drive axle assembly develops maximum torque at the drive wheel. Reduced torsional forces in differential and pinion shafts gives increased life and reliability to the drive line. Braking torque multiplication result in quick responsive braking with reduced pedal effort.
Engine Option: Simpsons S433/ TATA 4SP
Option of: Fluid Coupling Transmission
A Powerful engine with a responsive automatic transmission and drive axle g superior acceleration, gradeability, travel and lift/ lower speeds.
Enhanced Productivity and Performance

Higher travel, lifting and lowering speed reduces operating cycle times and increases throughput.
High visibility mast for quick and safe handling of material
Feather touch power steering system allows sharper and effortless maneuvering in aisles
Easy mounting and dismounting of forks and various attachments
Excellent gradeability for climbing steeper gradients with load

Container Stuffing and Destuffing made easy with container mast (optional)
Lifting and lowering speed of 0.5 m/s

Travel speed of 18 km/h and gradeability upto 28%

Safety

We invest in developing techniques that continuously improve our processes to deliver reliable and durable equipment.

Neutral start switch allows engine to start with direction control lever in neutral position only
High coolant temperature and low engine oil pressure indicators help keep a check on the vital parameters of the truck
Hydraulic brakes conform to IS: 9701 (1980)
Flow regulating valve automatically regulates lowering speed for greater safety and reduces lowering speed with heavier load
Hose burst valve ensures controlled lowering in the unlikely event case of hydraulic hose failure
Tilting of the mast is controlled by a counter balanced valve built into the main hydraulic valve. This prevents the mas from over - running in the forward direction while carrying and tilting the load.
Sturdy overhead guard protects the operator
Load backrest supports load and prevents accidental falling of load onto the mast of operator.
There is an in - built mechanism that either prevents a mistake from being made or makes the mistake obvious at a glace.

Light Diesel Forklifts GX Series

1.5 to 3 tonne capacity at 500 mm load center; lift heights up to 7.2 m
Masts: 2 - stage / 2 stage with full free lift /3 stage with full free lift
Transmission options: Automatic/ Fluid coupling/ Manual
Indian's only indigenously manufactured automatic transmission gives you advanced technology at affordable prices
Container Stuffing/ de - stuffing configurations
3 tonne forklift also available with 900mm load center for working with large attachments or lifting empty 20' containers.

"We are mainly dealing in Western Uttar Pradesh & NCR."